Daily Current Affairs 10th September 2019 covers some important current affairs based on the examination point of view. All Current Affairs are mentioned below:-
National Animal Disease Control Programme
Rollout of Aadhaar Enabled Payments System
ANGAN - Augmenting Nature by Green Affordable New-Habitat
Iodized Salt Coverage in India
National Animal Disease Control Programme:-
Prime Minister Narendra Modi is going to launch the
National Animal Disease Control Programme (NADCP) for eradicating the Foot and Mouth Disease (FMD) and Brucellosis in the livestock
, on 11th September in order to double the Farmers Income.
Brucellosis:- Brucellosis is a disease caused by a group of bacteria from the genus Brucella.
These bacteria can infect both humans and animals. Brucellosis is often spread when people eat contaminated food, which can include raw meat and unpasteurized milk. The bacteria can also be spread through the air or contact with an open wound.
Foot and Mouth Disease (FMD):- Foot-and-mouth disease (FMD) is a severe, highly contagious viral disease of cattle and swine. It also affects sheep, goats, deer, and other cloven-hooved ruminants.
FMD is not recognized as a zoonotic disease. The disease spreads very quickly if not controlled and because of this is a reportable disease.
Features of NADCP:-
The program aims at vaccinating 36 Million Female Bovine Calves annually in its fight against the Brucellosis disease.
With 100 Percent funding from the Central Government, of Rs 12,652 Crores for a period of five years till 2024, the program aims at vaccinating over 500 Million Livestock including cattle, buffalo, sheep, goats, and pigs against the FMD.
The Programme has two components – to control the diseases by 2025 and eradication by 2030.
Prime Minister Narendra Modi shall also be launching the National Artificial Insemination Programme on that day.
Expecting a simultaneous launch of the nationwide workshops in KrishiVigyanKendras in all the 687 Districts of the country on the topic of vaccination, disease management, artificial insemination, and productivity.
Rollout of Aadhaar Enabled Payments System:-
India Post Payments Bank (IPPB) announced the rollout of Aadhaar enabled Payment Services (AePS)
at the first anniversary of its business operations
which gives a strong boost to its efforts in expanding access to financial services for millions of unbanked and underbanked customers.
With the launch of AEPS services, IPPB has now become the single largest platform in the country for providing interoperable banking services to the customers of any bank by leveraging the last mile unprecedented reach of the Postal network.
Features of AePS service:-
With AePS services any common person with a bank account linked to Aadhaar can perform basic banking services such as cash withdrawals and balance inquiry irrespective of the bank, they hold their account with.
AePS services are bank-agnostic and are driven by an inexpensive infrastructure enabling low-cost delivery of doorstep banking services to every section of the society without discrimination, thus bringing forth the dawn of a 'Truly Inclusive Financial System'.
About IPPB:-
India Post Payments Bank (IPPB) has been established under the Department of Posts, Ministry of Communication with 100% equity owned by Government of India.
The bank has been set up with the vision to build the most accessible, affordable and trusted bank for the common man in India.
The fundamental mandate of India Post Payments Bank is to remove barriers for the unbanked & underbanked
IPPB delivers simple and affordable banking solutions through intuitive interfaces available in 13 languages.
IPPB is committed to provide a fillip to a less-cash economy and contribute to the vision of Digital India.
ANGAN- Augmenting Nature by Green Affordable New-habitat:-
Recently, an international conference on Augmenting Nature by Green Affordable New-habitat (ANGAN ) commenced in New Delhi.
The conference focuses primarily on achieving Energy Efficiency in the building sector.
It is being organized by the Bureau of Energy Efficiency (BEE), Ministry of Power in collaboration with GIZ under the Indo German Technical Cooperation initiative.
Key Highlights:-
The conference aims to identify economically viable alternatives and technologies in the field of design and construction of energy-efficient commercial and residential buildings.
It is estimated that an investment of Rs. 2000 billion in Building energy efficiency activities would lead to a cumulative savings of 388 billion units of electricity for the next ten years.
The emphasis will also be given to other resources like water and other materials that can be saved in the building sector.
In India, buildings have become an important component of our integrated energy policy. The formidable challenges this sector poses during policy formulation includes:

Providing adequate energy of desired quality to the consumers
Reasonable costs to the consumers
Improved efficiency for the suppliers
Iodized Salt Coverage in India:-
According to a national survey to measure the coverage of iodized salt, Tamil Nadu had the lowest consumption of iodized salt.
The survey was conducted by Nutrition International
in collaboration with the All India Institute of Medical Sciences (AIIMS) and the Indian Coalition for the Control of Iodine Deficiency Disorders (ICCIDD). It was first of its kind, pan India survey that tested the iodine content in samples of cooking salt from households.
Key Findings:-
The survey covered a total of 21,406 households across India.
The study shows that 76.3% of Indian households consumed adequately iodized salt, (which is salt with at least 15 parts per million of iodine).
The five worst performers were Tamil Nadu (61.9%), Andhra Pradesh (63.9%), Rajasthan (65.5%), Odisha (65.8%) and Jharkhand (68.8%).
The North-Eastern states were doing well with respect to the consumption of iodized salt as compared to the rest of India.
The key recommendation of the study was to sustain the momentum so that iodine coverage does not fall below current levels.
It also recommended that the States and the Centre need to work together to address the current gaps and look into issues that vary from one state to another, in order to produce adequately iodized salt.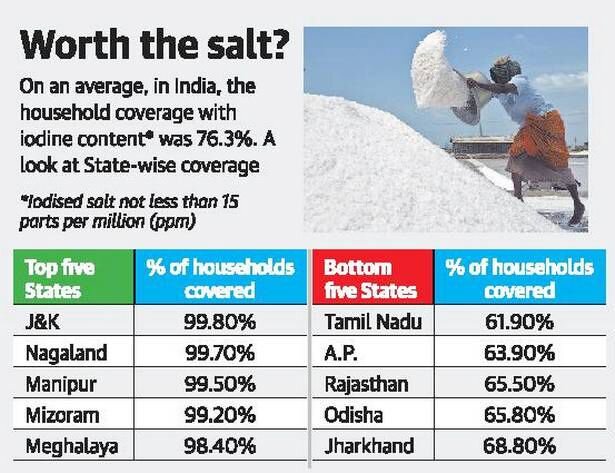 Iodine:-
Iodine is a vital micro-nutrient for the optimal mental and physical development of human beings.
Deficiency of iodine can result in a range of disabilities and disorders such as goiter, hypothyroidism, cretinism, abortion, still-births, mental retardation, and psychomotor defects (defects in which there is a slow down in thought process and a reduction of physical movements in an individual).